Porter L. Fortune, Jr. Symposium
The Porter L. Fortune, Jr., History Symposium began as a conference on southern history in 1975. In 1983, it was named for Porter L. Fortune, Jr., chancellor emeritus, to honor his contributions to the success of the symposium. Past events have examined topics such as religion in the South, medicine and technology in the Civil War, women's history, and the place of the United States South in the World.
The conference is held annually. It is a three day event that is free of charge and open to the general public.
The 43rd Annual Porter Fortune, Jr. Symposium, "Organizing Agribusiness from Farm to Factory: Toward a New History of America's Most Ambitious Labor Union," will take place on March 1-3, 2018.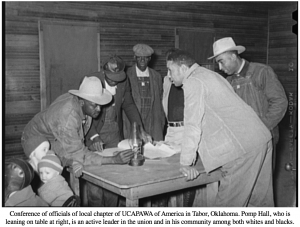 This symposium will launch a collaborative project to recover and write a national history of the United Cannery, Agricultural, Packing, and Allied Workers of America (UCAPAWA), an industrial union founded in 1937 in affiliation with the Congress of Industrial Organizations. Influenced by the nascent industrial union and Popular Front movements of the 1930s, their vision was expansive: they sought to organize the agricultural commodity industry from the fields to the processing factories across the United States. In a time of immigration restriction, structural white supremacy, and masculinist state policy, UCAPAWA organizers reached out to diverse groups of female and male workers, including African Americans, Hispanics, Asian Americans, and native-born and ethnic whites, many of them excluded from the protections of New Deal labor law. These groups pioneered a form of "civil rights unionism" that not only pressed for better wages and conditions on farms and in factories, but also articulated an anti-fascist culture and working-class politics in the face of rampant race and gender discrimination. UCAPAWA's effort required a geographical and occupational reach that no union had attempted before. By 1940, UCAPAWA's membership included Campbell's Soup workers in New Jersey and Illinois, cotton farmers and gin workers in Arkansas, Mississippi, Missouri, and Tennessee, tobacco workers in the Carolinas, pecan shellers in Texas, sugar beet workers in Colorado, cannery row workers from California to Alaska, and pineapple pickers in Hawaii, among many others.
The whole story of UCAPAWA has never been told. Historians have studied some of the constituent unions, but usually in isolation; no national history of UCAPAWA exists. The history of the union's path-breaking effort to win economic justice and civil rights for the most vulnerable workers across 1930s and 1940s America not only sheds new light on the possibilities and limitations of social movements in mid-twentieth century America but also speaks to food and economic justice issues in the United States today.
This symposium will bring together senior and junior scholars who have studied the union in various regional, chronological, and occupational contexts for a wide-ranging discussion to explore the connections and disconnections between these local struggles and the union's national political and legal strategies. It will be of interest to historians and other scholars of: civil rights and social movements; labor and working class studies; capitalism; gender and women; the African American, Asian American, and/or Hispanic experiences; food production and justice; the modern American South; and, more generally, the modern United States.
The following scholars have agreed to participate in the project and the symposium:
Vicki Ruiz (University of California, Irvine)
Robert Korstad (Duke University)
Dorothy Fujita-Rony (University of California, Irvine)
Michael Honey (University of Washington, Tacoma)
Max Krochmal (Texas Christian University)
Erik Gellman (Roosevelt University)
Keona Irvin (University of Missouri)
Dan Sidorick (Rutgers University)
Sarah McNamara (Texas A&M)
John Weber (Old Dominion University)
Jessica Wilkerson (University of Mississippi)
Jarod Roll (University of Mississippi)
Charles Romney (University of Arkansas, Little Rock)
Sean Crotty (Texas Christian University)
Lane Windham (Georgetown University)