Previous Dalrymple Lectures
Since the 2016-2017 academic year, the Arch Dalrymple III Department of History has hosted an annual lecture, made possible by the Dalrymple Endowment, that features renowned scholars.
First Annual Dalrymple Lecture:
Odd Arne Wested
"The Cold War: A World History"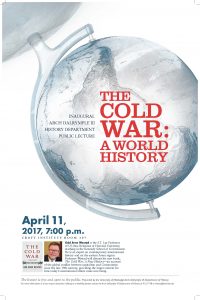 The Inaugural Dalrymple Lecture,"The Cold War: A World History," was given by Dr. Odd Arne Westad on Tuesday, April 11, 2017 at 7:00 p.m. in the Croft Institute, Room 107. This event was free and open to the public.
Odd Arne Westad is the S.T. Lee Professor of U.S.-Asia Relations at Harvard University, where he teaches at the Kennedy School of Government. He is an expert on contemporary international history and on the eastern Asian region.
Professor Westad won the Bancroft Prize for The Global Cold War: Third World Interventions and the Making of Our Times. The book, which has been translated into fifteen languages, also won a number of other awards. Westad served as general editor for the three-volume Cambridge History of the Cold War, and is the author of the Penguin History of the World (now in its 6th edition). His most recent book, Restless Empire: China and the World since 1750, won the Asia Society's book award for 2013.
Second Annual Dalrymple Lecture:
Darren Dochuk
"Crude Awakenings: Religion and Oil in Modern America"
"Crude Awakenings: Religion and Oil in Modern America," the Second Annual Dalrymple Lecture, was delivered by Dr. Darren Dochuk on Tuesday, April 24, 2018 at 5:30 p.m. in the Overby Center Auditorium. This event was free and open to the public.
Professor Dochuk, a historian of the United States in the long twentieth century, with emphasis on the intersections of religion, politics, and the rising influence of the American West and Sunbelt Southwest in national life, is an Associate Professor of History at the University of Notre Dame.
He has written widely on religion, politics, economics, and culture in American life. He is the author of From Bible Belt to Sunbelt: Plain-Folk Religion, Grassroots Politics, and the Rise of Evangelical Conservatism, winner of the Allan Nevins Prize from the Society of American Historians (awarded for dissertation manuscript), John H. Dunning Prize from the American Historical Association, and Ellis Hawley Prize from the Organization of American Historians. He is also the co-editor of Faith in the New Millennium: The Future of Religion and American Politics, American Evangelicalism: George Marsden and the State of American Religious History, and Sunbelt Rising: The Politics of Space, Place, and Region.