Study Abroad
The Arch Dalrymple III Department of History hopes our minors and majors take advantage of incredible opportunities to broaden their horizons through travel. Study Abroad gives students a chance to continue making progress on their degrees while exploring the world—often for the same cost of tuition they would pay to stay in Mississippi. Because history is such a flexible major, moreover, minors and majors can easily take advantage of study abroad without falling behind.
Study Abroad Experiences of Our Majors
Our history majors have pursued a variety of different study abroad experiences.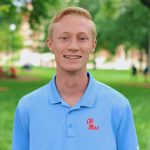 Jacob Ferguson, an honors history and English major from Pontotoc, Mississippi, spent spring 2018 in Scotland at the University of Edinburgh. While in Edinburgh, Jacob took courses in history and English. In "Machiavelli and His World," Jacob explored the writings of Machiavelli and studied their context in Florentine and Italian histories, while in "The History of Edinburgh," he was able to place the setting of his study abroad experience in the larger British/European historical context while also focusing on the literary achievements of Edinburgh and Scotland. In addition to his coursework, study abroad enabled Jacob to travel to Iceland as well as London, Paris, Florence, and Milan—allowing him to meet people from across the globe while further igniting his passion for travel.