Historian and author Carol Anderson set to speak Oct. 13
Historian Carol Anderson is set to discuss the history of voter suppression and how it relates to the right to vote in 2020 for the annual UM Gilder-Jordan Lecture in Southern Cultural History at 6 p.m. Oct. 13. Because of ongoing health concerns, this year's lecture will be conducted virtually.
OCTOBER 7, 2020 BY REBECCA LAUCK CLEARY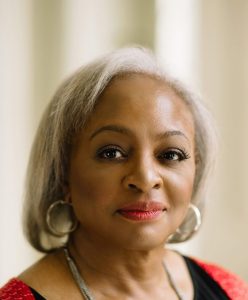 With the presidential election only weeks away, voting and how to do so are on the minds of many Americans. A historian who studies public policy with regards to race, justice and equality will visit the University of Mississippi for a discussion of the history of voter suppression and how it relates to the right to vote in 2020.
Carol Anderson, the Charles Howard Candler Professor of African American Studies at Emory University, will give the annual Gilder-Jordan Lecture in Southern Cultural History at 6 p.m. Oct. 13. The event will be held virtually this year because of COVID-19 and is open to the public once they register at https://bit.ly/2Evgyhy.
Her talk, "One Person, No Vote: How Voter Suppression Is Destroying Our Democracy," is also the title of her recent book, which was long-listed for the National Book Award in Non-Fiction and was a finalist for the PEN/Galbraith Book Award in Non-Fiction.
Katie McKee, director of the UM Center for the Study of Southern Culture, said she is delighted to welcome Anderson to discuss issues deeply relevant at the moment: voting rights and race in America.
"The Gilder-Jordan lecture gives us, year after year, the opportunity to invite the nation's leading historians to our stage, and this year is no exception," McKee said. "We're excited to be hosting these timely discussions."
Also on Oct. 13, Anderson will lead a "Black in the Academy" virtual discussion at 4 p.m. for graduate students, facilitated by Shennette Garrett-Scott, UM associate professor of history and African American studies. Anderson's contributions to the ongoing Twitter conversation "Black in the Ivory," created by Sharde Davis, amplify the voices of "Blackademics" to speak truth about racism in academia.
Finally, at 6 p.m. Oct. 14, Anderson will participate in a virtual roundtable discussion about voter suppression with Jim Downs and Kevin M. Kruse. The conversation is sponsored by the Center for the Study of Southern Culture and the University of Georgia Press as part of the Voting Rights and Community Activism series.
Downs is coeditor of the UGA Press History in the Headlines series and editor of the recent "Voter Suppression in U.S. Elections," and Kruse studies the political, social and urban/suburban history of 20th-century America.
Ethel Young Scurlock, associate professor of English and African American studies and senior faculty fellow of the Luckyday Residential College, said the lecture will be momentous and Anderson's words will help people find new ways to examine the role of policy in their own communities.
"Her scholarship digs deep into issues of how policy can impact the everyday lives of U.S. citizens, with special attention to how policy and practices can impact African American communities," said Scurlock, who is also director of the UM African American studies department.
"Her rigorous research is important because it reminds us that disrupting the impact of racism is not about trying to change hearts of people; it is about changing policies that impact how people are able to exist in their communities."
Anderson's research has garnered substantial fellowships and grants from the John Simon Guggenheim Foundation, the American Council of Learned Societies, the Ford Foundation, National Humanities Center, Harvard University's Charles Warren Center, the Committee on Institutional Cooperation (The Big Ten and the University of Chicago) and the Gilder Lehrman Institute of American History.
Noelle Wilson, the UM Croft Associate Professor of History and International Studies, said she looks forward to Anderson's lecture.
"The history department is thrilled to have Professor Anderson join us in this 2020 election season when remembering hard-won lessons of the past is particularly critical for making certain as broad an electorate as possible participates in our November presidential decision," said Wilson, also chair of the history department.
"The Gilder-Jordan Lecture is one of the most anticipated events of our fall semester, and we look forward to encouraging students, faculty and the community at large to engage with Anderson's work through this event."
Anderson is the author of "Eyes Off the Prize: The United Nations and the African-American Struggle for Human Rights, 1944-1955," which was published by Cambridge University Press and awarded both the Gustavus Myers and Myrna Bernath Book Awards. In her second monograph, "Bourgeois Radicals: The NAACP and the Struggle for Colonial Liberation, 1941-1960," also published by Cambridge, Anderson uncovered the long-hidden and important role of the nation's most powerful civil rights organization in the fight for the liberation of peoples of color in Africa and Asia.
Her third book, "White Rage: The Unspoken Truth of our Racial Divide," won the 2016 National Book Critics Circle Award for Criticism. A New York Times bestseller and New York Times Editor's Pick, it is listed on the Zora List of 100 Best Books by Black Woman Authors since 1850. Her young adult adaptation of "White Rage, We are Not Yet Equal" was nominated for an NAACP Image Award.
Anderson is a Phi Beta Kappa graduate of Miami University, where she earned bachelor's and master's degrees in political science, international relations and history. She earned her doctorate in history from Ohio State University.
Organized through the Center for the Study of Southern Culture, the African American studies program, Center for Civil War Research and the Arch Dalrymple III Department of History, the Gilder-Jordan Speaker Series is made possible through the generosity of the Gilder Foundation. The series honors the late Richard Gilder, of New York, and his family, as well as his friends, Dan and Lou Jordan, of Virginia.
Registration information is available at https://southernstudies.olemiss.edu/ or by emailing Afton Thomas at amthoma4@olemiss.edu.