Undergraduate Events
It's hard to believe that we'll need to start thinking about Summer and Fall 2019 courses, huh? It's true, though! Summer and Fall academic advising will officially begin immediately after spring break. Let's celebrate advising season together, the best way we know how: with cupcakes.
Join us on Tuesday, March 19 from 3:30-5PM in Bishop Hall 2nd Floor lobby for a preview of 2019 Summer and Fall courses, the chance to learn more about internships and study abroad, and, you know, cupcakes.
Have you considered going to law school after you graduate? Are you wondering how you might prepare an application or fund these studies? Good news! The faculty at the University of Mississippi Law School would love to help you out.
Join fellow history majors and minors as they learn more about legal education at a special event hosted in the Weems Auditorium inside the University of Mississippi Law School on Friday, March 22 from 12:20-2PM. To reserve your spot–and your pizza lunch!–RSVP to Professor Anne Twitty at atwitty@olemiss.edu.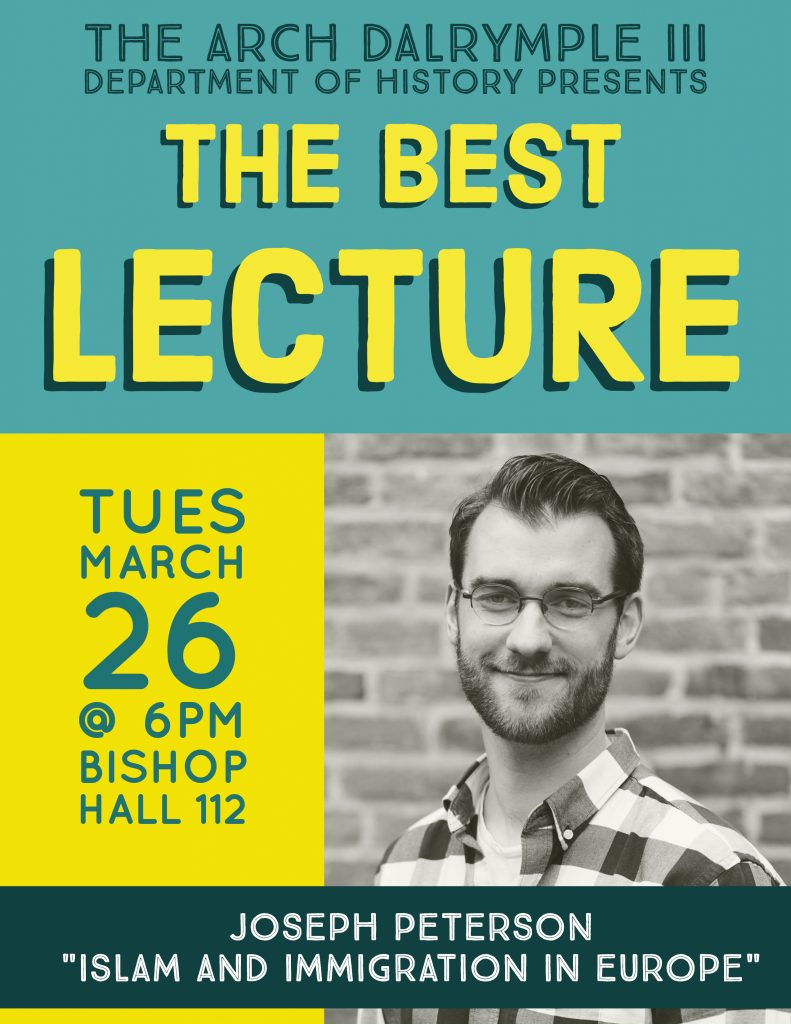 Spring 2019 marks our First Annual Best Lecture event, at which one of our professors wins the honor of giving their very best undergraduate lecture to an adoring audience.
You voted, and the overwhelming favorite was Visiting Assistant Professor Joseph Peterson. Join us on Tuesday, March 26 at 6PM in Bishop Hall 112 as Professor Peterson examines "Islam and Immigration in Europe."
History majors and minors are warmly invited to our first annual Spring BBQ, which will take place on Thursday, April 24 from 4-6PM on the Bishop Hall Lawn between Bishop Hall and Martindale Hall. There'll be cornhole and BBQ on offer, as well as free swag for history majors, and we'll be inducting our new Phi Alpha Theta members and handing out various awards and prizes, so we hope you'll join us!
Are you thinking about Study Abroad? Want to learn more about where you can travel? How it'll affect your progress towards your degree? What it will cost?
The Undergraduate Committee has you covered! Come join us on Thursday, April 18 from noon to 1PM in the Bishop Hall Third Floor lobby for information and free pizza!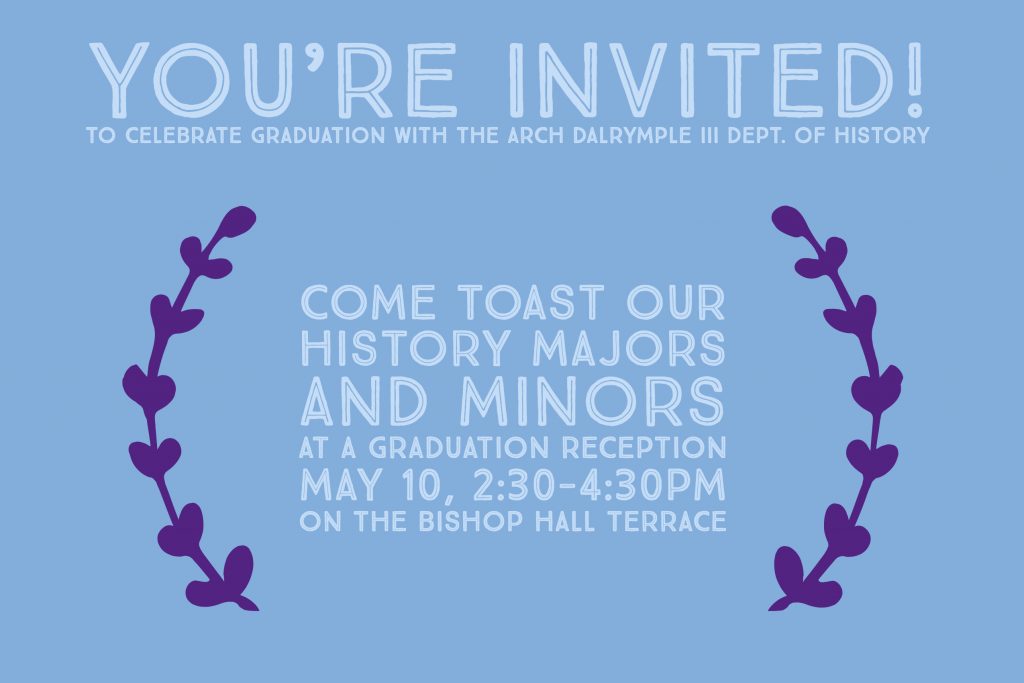 Graduating history majors and their families are warmly invited to join the Arch Dalrymple III Department of History as we celebrate 2019 commencement with a gelatto and sparkling cider send-off on the Bishop Hall Terrace on Friday, May 10 from 2:30-4:30PM.