Career Preparation
A history degree is terrific preparation for a variety of different careers, and the Department of History is committed to helping its majors identify the best path for them. This page is designed to assist you as you think about your future, but students are also strongly encouraged to check out this "Careers for History Majors" pamphlet recently released by the American Historical Association.
The most popular careers for history majors exist in the following categories:
Law, Politics, and Public Life
Business and Management
Education
Research and Archival Sciences
Journalism, Publishing, and Entertainment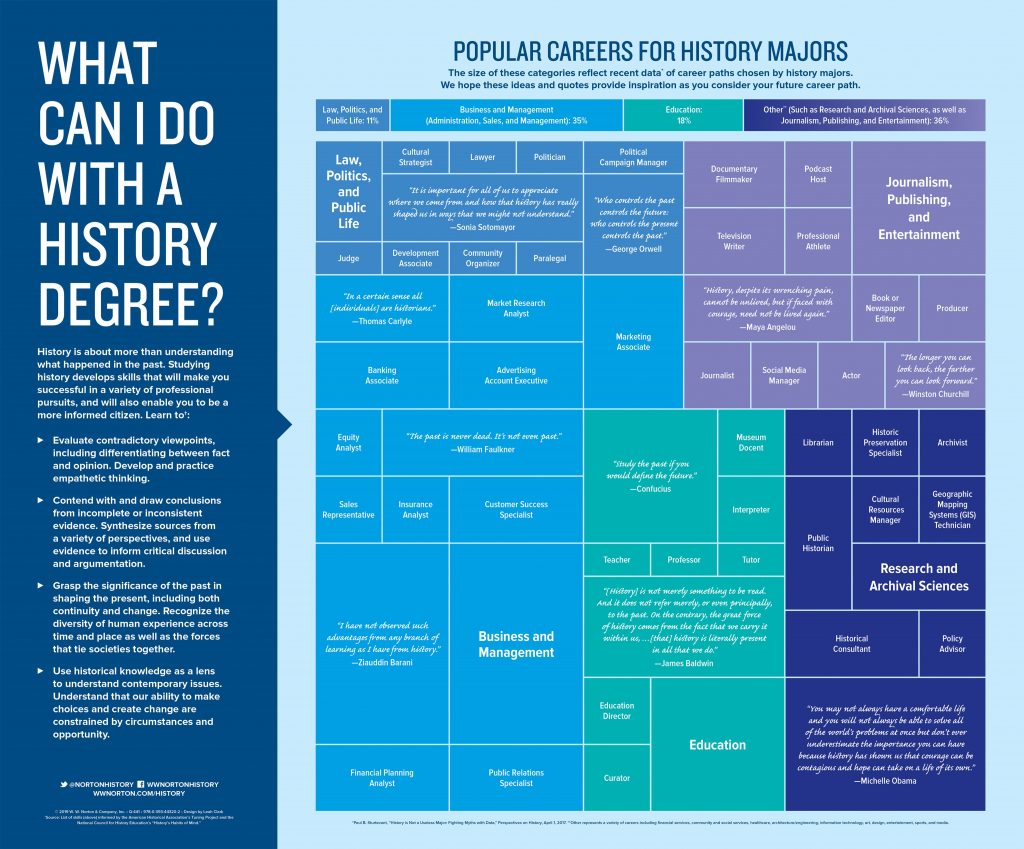 Law, Politics, and Public Life
A history degree is excellent preparation for a career in law. If you know early in your college career that law school is in your future, you may want to consider our accelerated B.A./J.D. program–which can shave a year off of your total time to both degrees. If you come to this decision a bit later, know that every year, a large number of our seniors begin preparing their applications to law school, and history faculty are happy to help students create and refine these materials as well as write letters of recommendation. The department also hosts events designed to get majors thinking about how this process works.
Your training in history can also prepare you for a career in politics or public life. History major Caroline Pratt ('12), for instance, has served on a variety of different campaigns at both the state and national level and currently works as the Director of the Office of the Chairwoman the Democratic Congressional Campaign Committee in Washington, D.C. She got started on this path by serving as a legislative intern at the capitol during the spring semester of her junior year. LaNiesha Dawson ('11), moreover, works as Director of Appointments and Operations for the Governor of Nevada, while Jordan Downs ('08) is the Chief of Staff  for Congressman Michael Guest.
Business and Management
History can also be a great foundation for a career in business and management positions. In fact, a tremendous number of our majors wind up in positions in marketing, sales, financial planning, banking, public relations, and customer service, and businesses increasingly search for employees with precisely the kinds of skills history majors have developed. Bowman Hitchens ('11), for instance, founded UM Homeless Outreach and raised money for the Interfaith Compassion Ministries while at UM–and today he works as a corporate development and strategy associate at Medical Life Holdings. Dustin Todd ('07), meanwhile, who went on to earn a master's degree in political science and government at the Johns-Hopkins University, is a public policy and external affairs expert at Amazon.
Education
A career in education may lead you into a teaching position at the K-12, community college, or university level. Since earning a dual major in history and music, for example, Kyle Crockett ('14) has worked as an 8th grade English, Language Arts, and History teacher at Germantown Middle School. Toby Bates ('06), meanwhile, went on to earn his master's and doctoral degrees in history from the University of Mississippi, and is now an associate professor of history at Mississippi State University, Meridian. A teaching career will invariably require additional certification and/or education. History majors who are thinking about getting their license to teach K-12 in the state of Mississippi can learn more from the Mississippi Department of Education. Those interested in teaching at the community college or university level will need several years of additional education. This can be a very challenging path because there are relatively few positions, but it might be right for you.
In addition to classroom teaching, educators can also be found in a variety of other settings, perhaps most especially in museums. Some of these jobs may require additional education. History major Elise Carroll ('14), for instance, went on to earn a master's degree in history with a concentration in underwater archaeology and maritime history from the East Carolina University Program in Maritime Studies, and now works as a Lab Manager at the Queen Anne's Revenge Conservation Lab in Greenville, North Carolina. A great way to figure out if this option might be right for you is to consider adding the new, interdisciplinary museum studies minor, which will be available starting in fall 2020. You should also learn more about various internships you can pursue while still an undergraduate, both through our website, and through events planned by the undergraduate committee.
Research and Archival Sciences
Your history degree may also lead you into a career in research in a variety of different capacities. Perhaps you're interested in working as a policy advisor, fundraiser, or director for a local, state, or federal public history agency. Or maybe you aspire to a career in historic preservation. This was the path taken by Kate Kenwright ('13), who earned a master's degree in preservation studies at Tulane University after completing her history degree here, and then worked as a historic preservationist in New Orleans and Washington, D.C. before landing a job at the City of Oxford. Kate's classmate Collier Neely ('13) did likewise–he earned a master's degree in historic preservation and conservation–and now works as a preservationist at the Alabama Historical Commission.
Archival science is yet another possible path. A career as a librarian or archivist will likely entail additional education.
Journalism, Publishing, and Entertainment
Journalism, as well as editing and publishing, are also fields in which a history degree can serve you well. Other history majors find their way into the entertainment world as documentary filmmakers, artists, actors, podcast hosts, and producers. Laura Santhanam ('05), who majored in history and journalism, for instance, works as a data producer for the PBS News Hour in Washington, D.C., while her classmate Richard Stewart ('05), also a history and journalism major, is an audio producer for American Family Radio. And perhaps most famously, Ben Napier ('07) stars with his wife Erin in HGTV's hit home renovation show, "Home Town."